Contents
Introduction
The Betterworks Gmail integration allows users to seamlessly manage their goals and milestones without leaving their inboxes. As a Gmail administrator, you can manage user access to the integration by configuring the app in Google Workspace, controlling permissions, and setting up organizational units.
Configuration
Note: The integration is made available via a Google Chrome extension, therefore it is only accessible within the Google Chrome browser.
To install the extension for your organization (and eliminate the need for users to install it on their end), you must be logged into the Google administrator console.
1. Go to Devices → Apps & Extensions → Users & Browsers on the left-side panel bar. Here you will be able to see all the apps you have installed with installation policy and version pinning.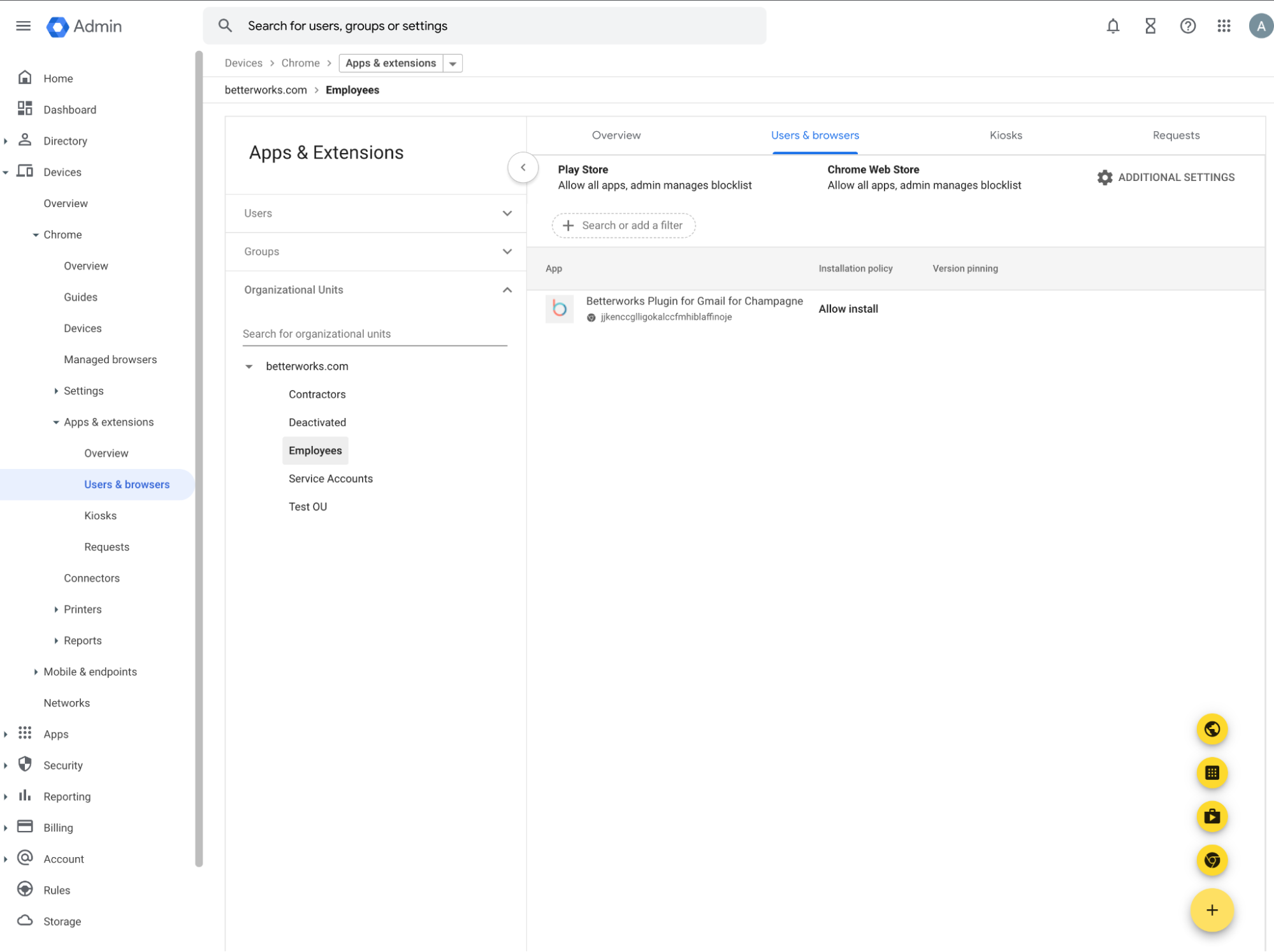 2. Click on the last "+" icon from the bottom right vertical panel to launch the Chrome Web Store.
3. Search for "Betterworks Plugin for Gmail" to find the extension and click "Install".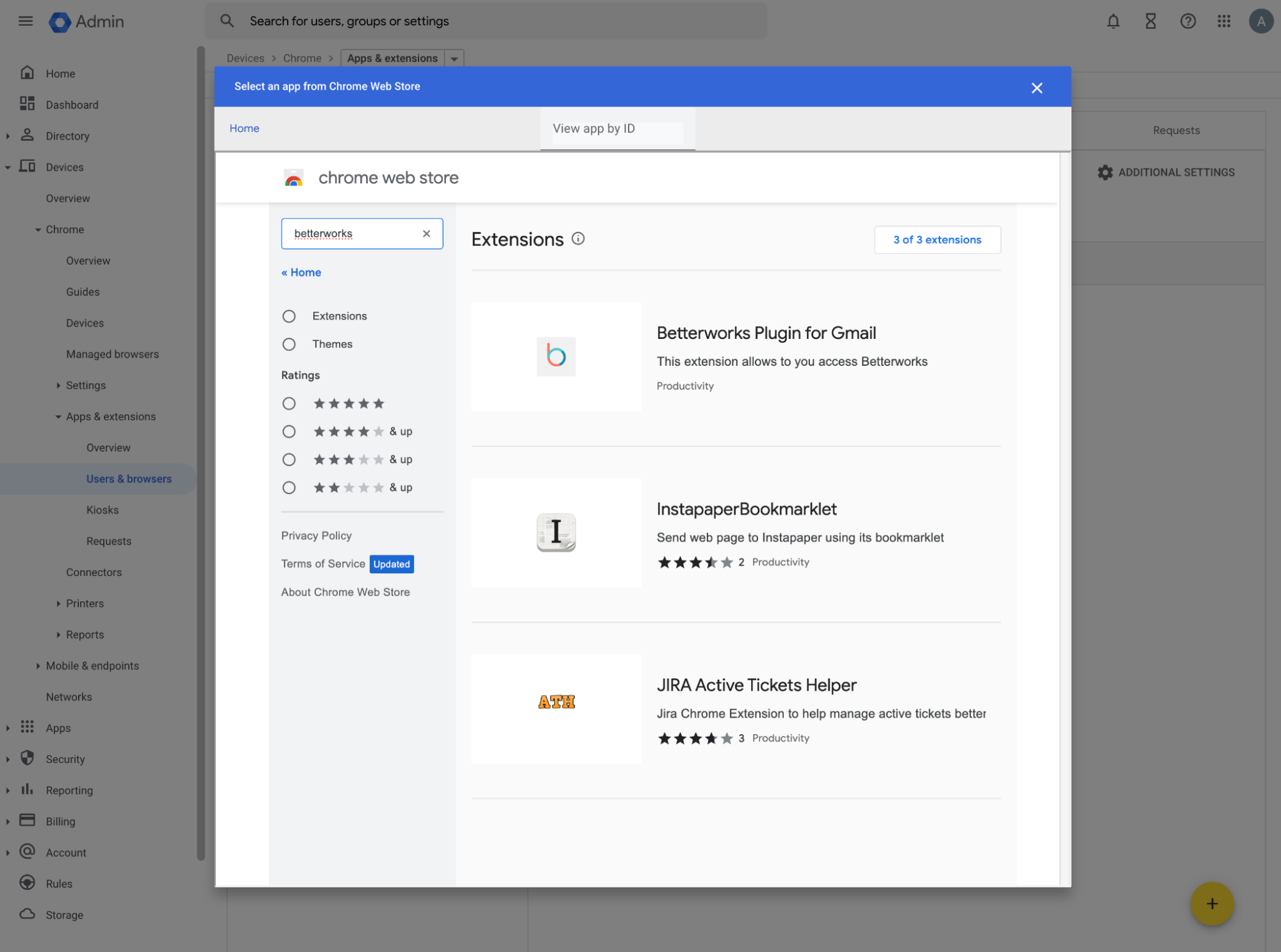 4. Once the extension is installed, you will be able to see it under your apps in the Users & Browsers tab. Click on it to allow installation and choose the installation policy you want to apply to the app:
Force install + pin browser toolbar — Install the app for all users and pins the toolbar.

Force install — Installs the app for all users.

Allow install — Allows users to install the app themselves.

Block — Blocks the app from being installed.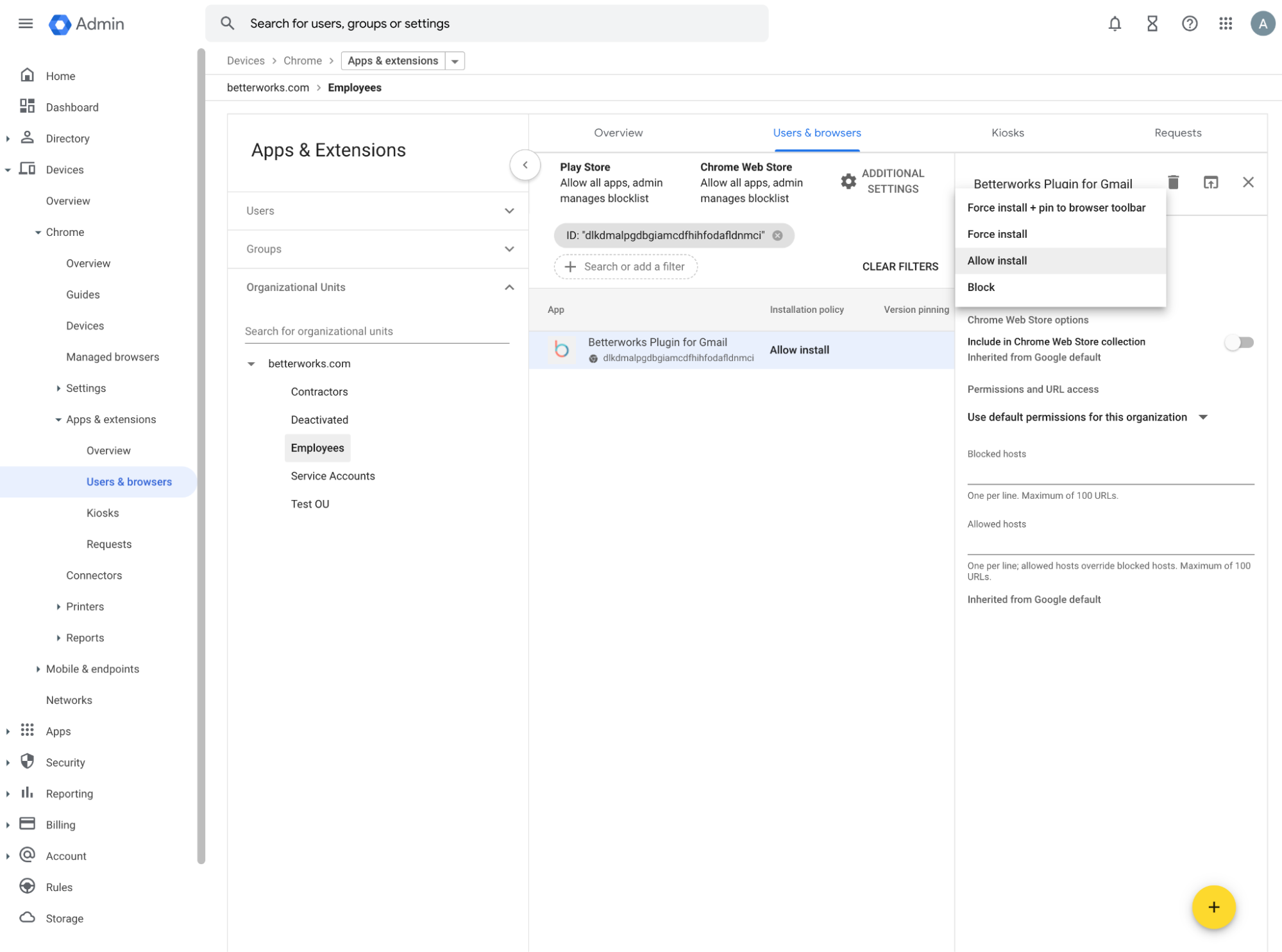 Troubleshooting
While setting up the Betterworks Gmail integration, you might encounter some issues. Below are some common issues you may encounter and how to troubleshoot them:
Users cannot access the extension — If users are unable to access the extension even after it has been installed, ensure that their Google Workspace account has access to the Betterworks app. You can check this by going to Admin console → Apps → Additional Google services → Betterworks and ensuring that the option is enabled.

Browser compatibility issue — The Betterworks Gmail integration is only compatible with the Google Chrome browser. Make sure that all impacted user(s) are using Google Chrome.

Issues with organizational unit access — If you have created an organizational unit to restrict access to the extension, ensure that the users who need access have been added to the unit. Additionally, check the permissions assigned to the unit to ensure that they are not preventing access to the extension.
If you are still encountering issues after troubleshooting, please reach out to Betterworks Support for further assistance — support@betterworks.com.
Additional Information
If you need to make this extension available to certain users only, you can do so by creating an organizational unit, which groups users and facilitates access management. To create a new unit, go to Directory → Organizational Units, click on the "+" icon, enter a name, and add users by going to Directory → Users. Refer to this Google article for more information.
For information on how a user would navigate the extension, see this Betterworks Support article.