Contents
Introduction
Note: Ad blocker extensions in your browser will prevent data from displaying. To resolve this, disable the ad blocker while using Betterworks or add app.betterworks.com to the safelist in the ad blocker settings (eu.betterworks.com for organizations on the EU data center).
Execution Insights offers the ability for administrators and managers to view progress and activities for objectives made over a certain period of time. Data is broken down by objectives on-track, recently updated, and engagement activity (i.e. cheers, nudges, and comments).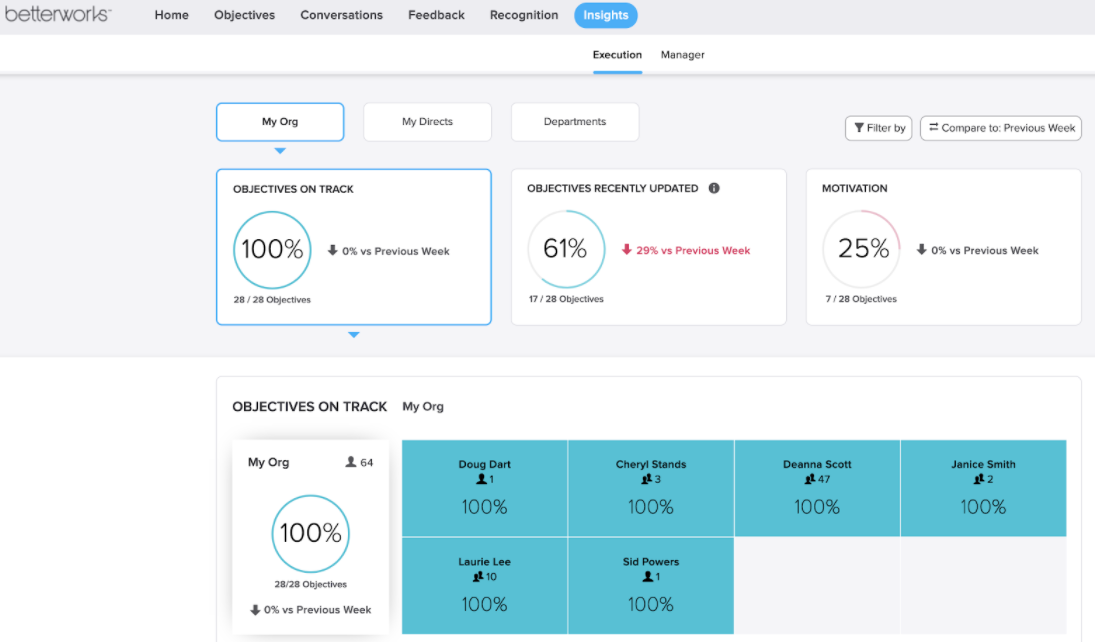 How does it work?
You can view objective progress for the organization, direct reports or a specific department. To view specific data, you can add additional filters such as category, department, risk, integration, visibility and followed objectives.
Execution Insights will also provide a recommendation on objectives that are "nudge-worthy" and "cheer-worthy". From this page, managers can also easily engage with direct reports by providing a comment, nudge and cheer from the recommended list.
Enabling/disabling Views & Metrics
Super Admins can enable or disable certain views and metrics from the Execution Insights dashboard including "Team Owned" (which are objectives owned by a cross-functional collection of users) by going to:
Admin → Program Management → Execution Insights → Settings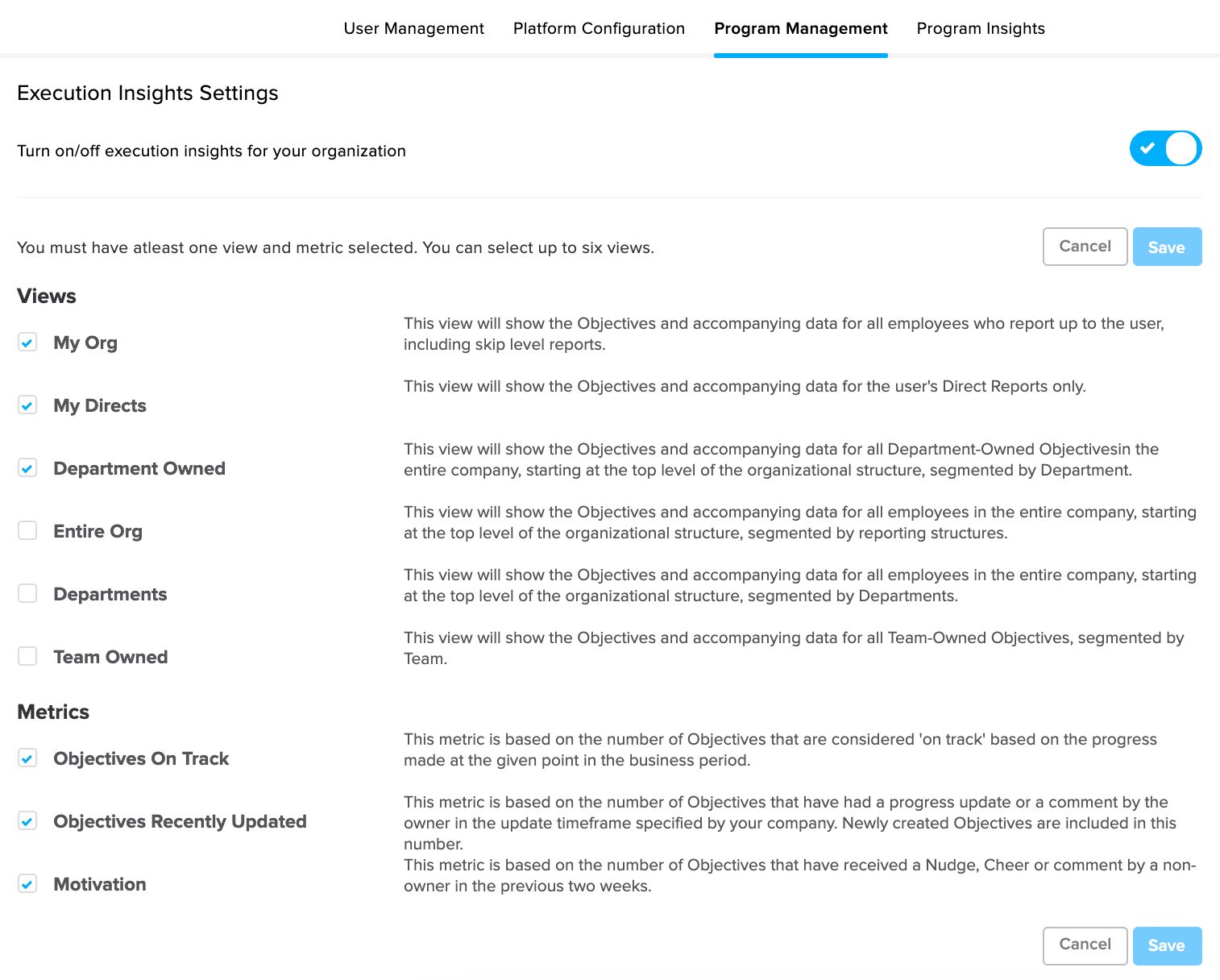 What does each filter do?
Using this pick-list menu under "Filter by" allows administrators and managers to select a preferred dimension to display data: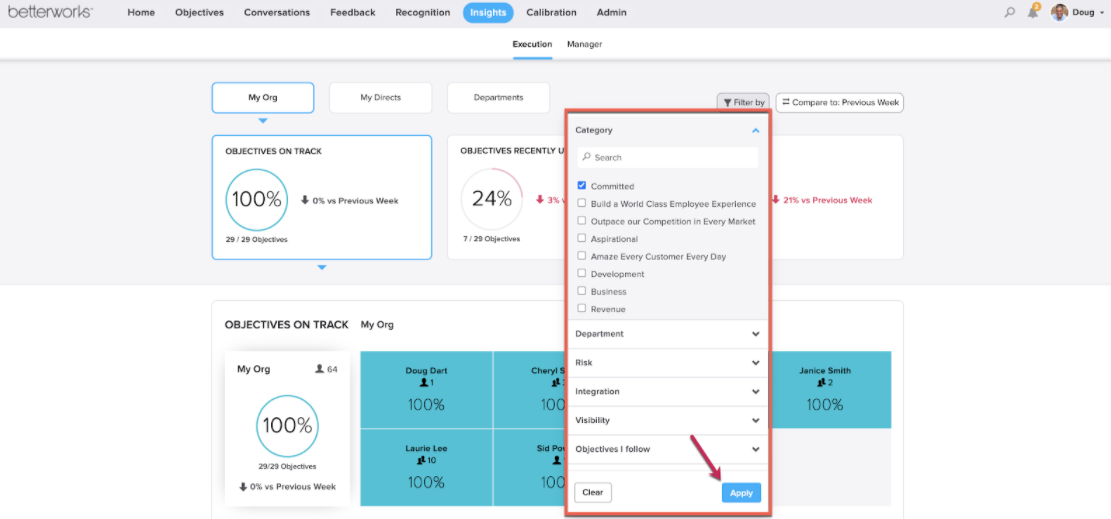 Category - Filter by categorized objectives

Note

: Use categories to organize and prioritize objectives.

Department - Filter by department

.

Risk - Filter by objectives that are on track, at risk and needs attention.

Integration - If you are leveraging third-party applications for tracking tasks and have them integrated with Betterworks, you can filter by the selected integration.

Visibility - Filter by public and private objectives.

Objectives I Follow - Filter by objectives that you're following.

Date range - Filter by business period.
Notes:
By default, this menu will be blank. When you enter your cursor into the field, a drop-down menu will appear pre-populated with a list of suggested search terms. You can select one of the suggestions, or start typing to see a refined list.

To reset your search by clicking "Clear"

or individually remove the search terms by clicking the "

✔".
After finishing your selection, click on the blue "Apply" button at the bottom-right corner of the frame to update your dashboard.
You also have the ability to compare to a previous time frame (i.e. the previous day, week, month, quarter, year and company average).
Drill Paths
The tiles on the dashboard allow you to drill down to specific objectives. This is where you can view additional data on objectives that are on track, recently updated objectives and how engaged and motivated the organization is.

Manager Engagement
Manager engagement is critical for the program's success. Execution Insights will invite managers to take actions and recommend how to motivate their direct reports. The platform will pull objectives based on the filters set and place them in the "nudgeworthy" and "cheerworthy" columns. Managers can easily motivate the team by nudging, cheering and sending comments: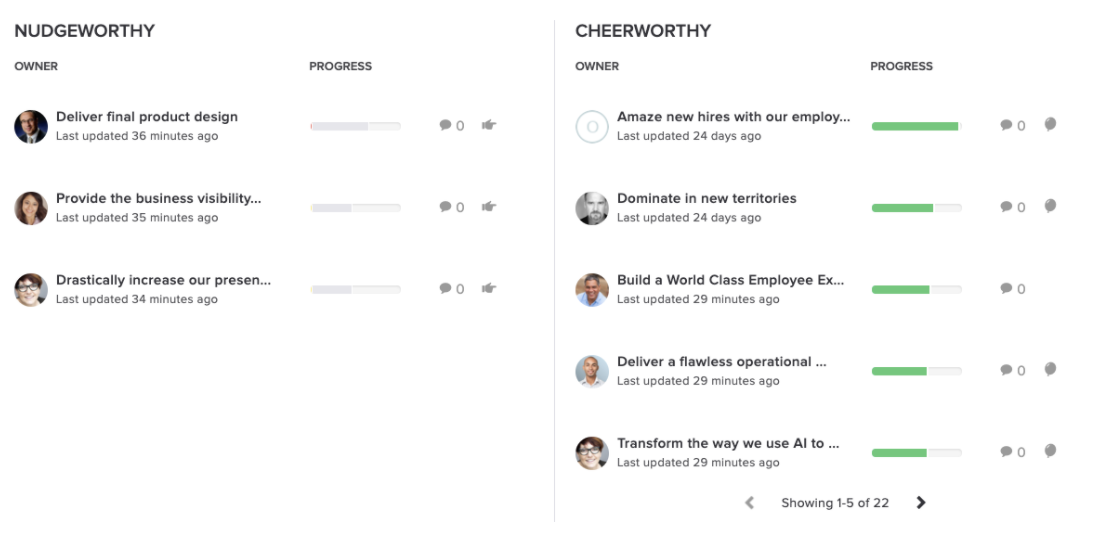 Color Scale
Dark Red: 0-20%

Light Red: 21%-40%

Grey: 41%-60%

Light Blue: 61%-80%

Dark Blue: 81%-100%
Metrics
Objectives on Track

The percentage of objectives that are considered "On Track" based on the progress made.

Objectives Recently Updated

The percentage of objectives that have had a progress update or a comment by the owner in the update timeframe specified.

Motivation

The percentage of objectives that have received a cheer, nudge, or comment by a non-owner in the previous two weeks.
By default, these metrics are calculated based on the previous 14 days. However, the # of days can be changed by updating the value in the "Schedule" field, under:
Admin → Program Management → Execution Insights → Settings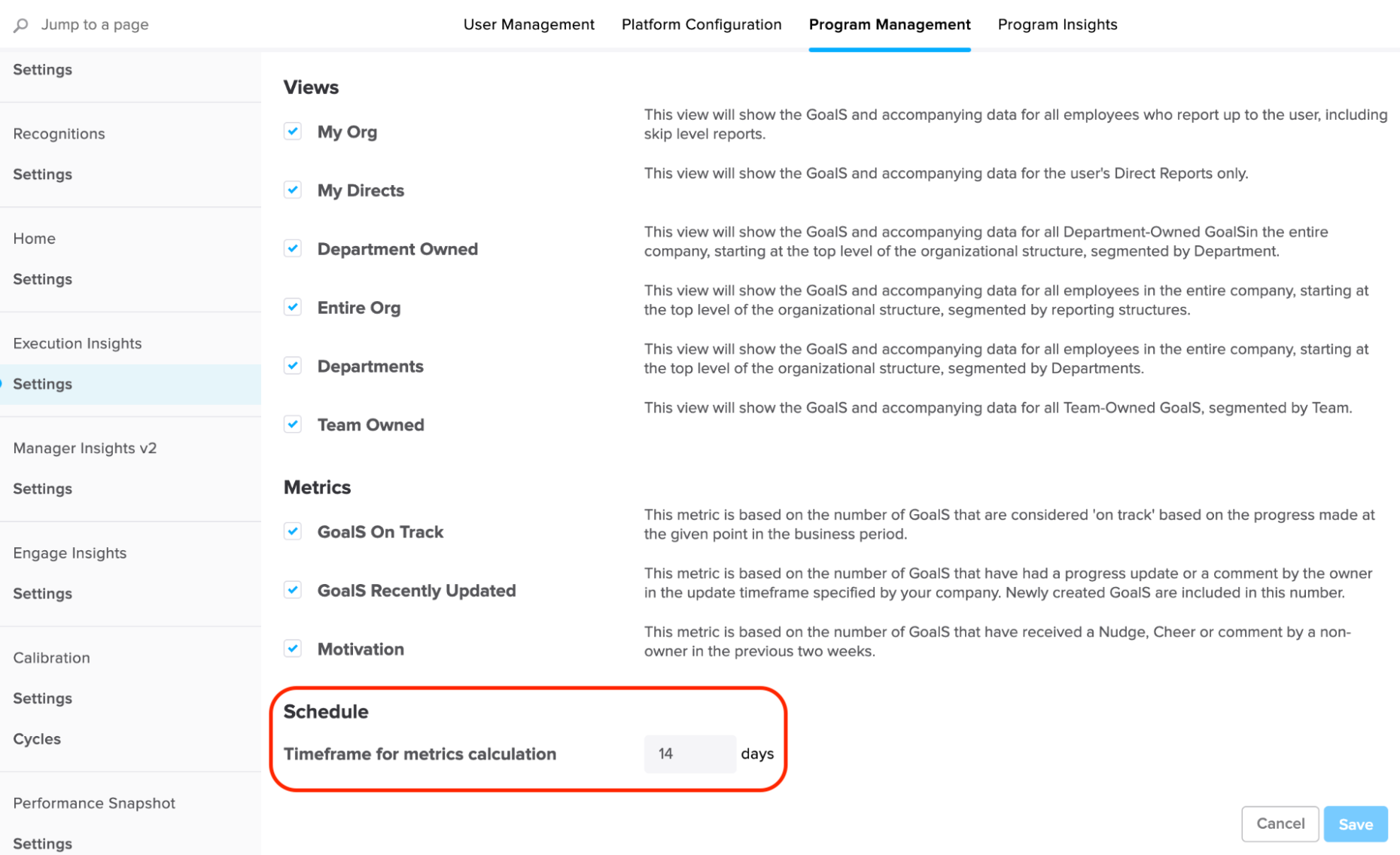 Note: This can only be done by a Super Admin.