Contents
Introduction
HR Insights is a dashboard where administrators can easily view user performance and activity. This will help administrators to identify any gaps early on and can take the necessary steps to achieve their desired outcomes.
Access & Settings
Super Admins and Admins have access to all of the data in the dashboard. However, HR Admins only have access to the data of users within their scope. For conversation data, both the manager and the direct report need to be in the HR Admin's scope. For more information about the differences between administrator types and their abilities, see this article.
As a Super Admin, you can configure the settings and benchmarks by going to:
Admin → Program Management → HR Insights → Settings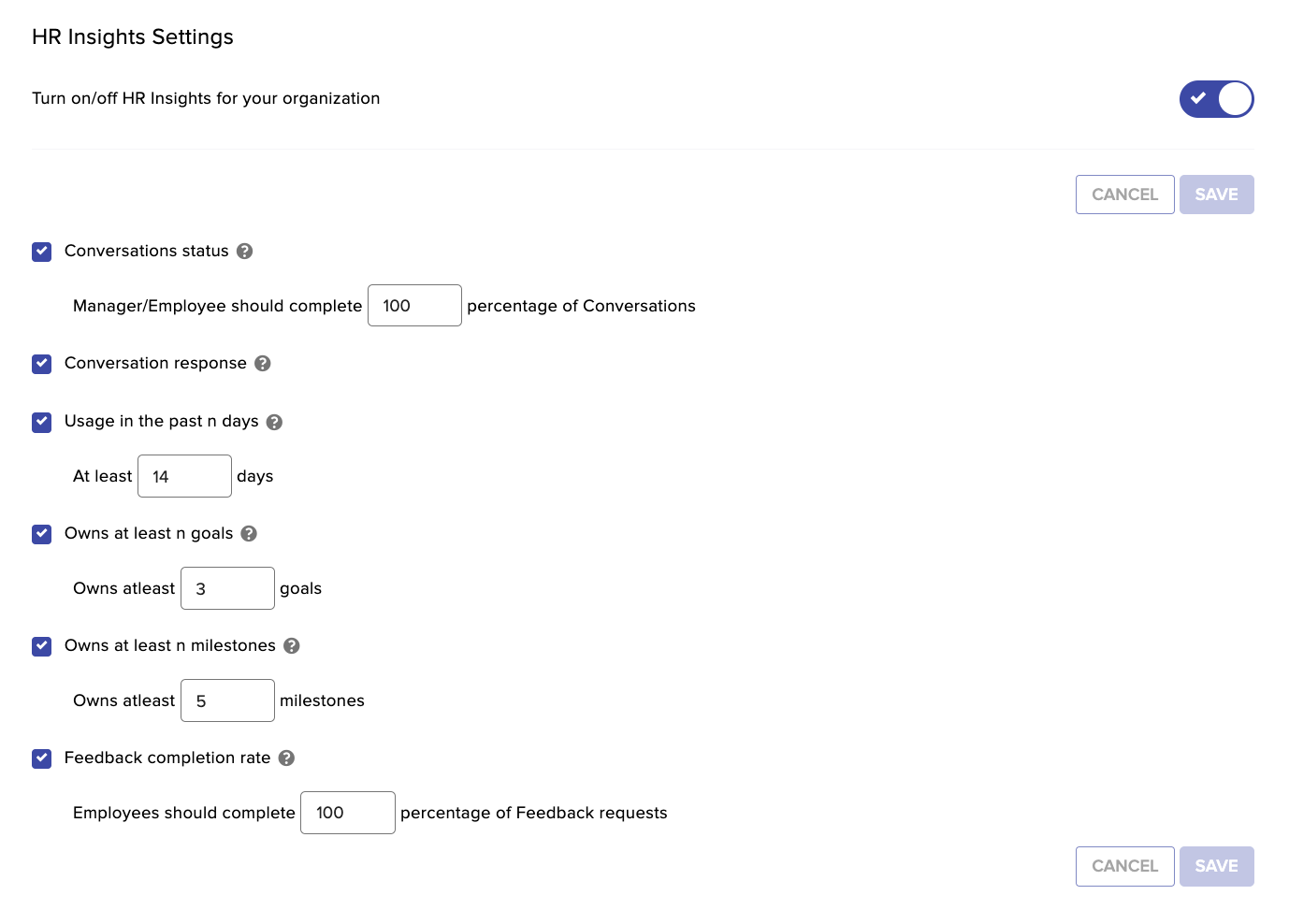 Dashboard
Note: Ad blocker extensions in your browser will prevent data from displaying. To resolve this, disable the ad blocker while using Betterworks or add app.betterworks.com (eu.betterworks.com for organizations on the EU data center) to your ad blocker's safelist.
Top panel
Global filters (applies to all metric cards)

Employee department

Organization by manager

Groups

Local filters (applies to certain metrics cards)

Conversation Status

Conversation type

Conversation name

Conversation flow

Conversation responses

Conversation type

Conversation name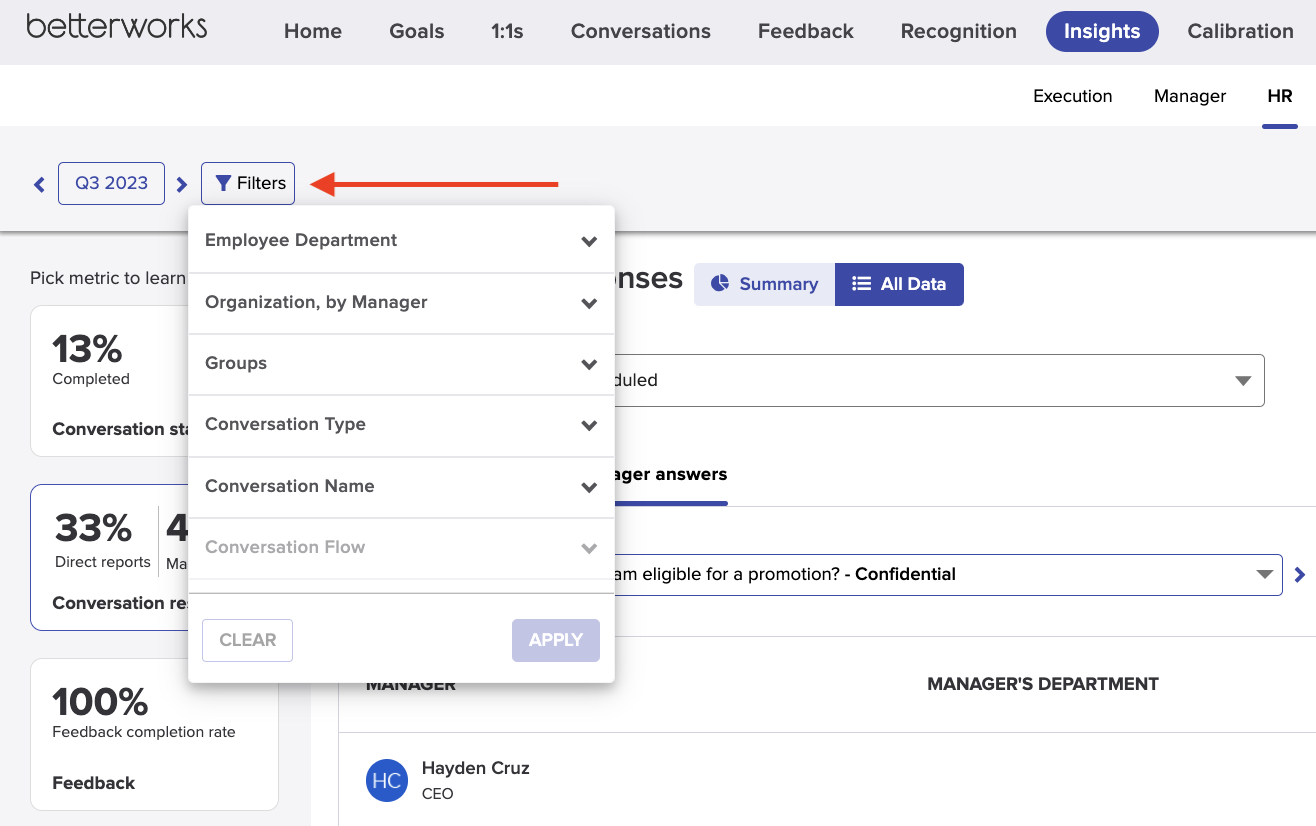 Left panel

Conversation Status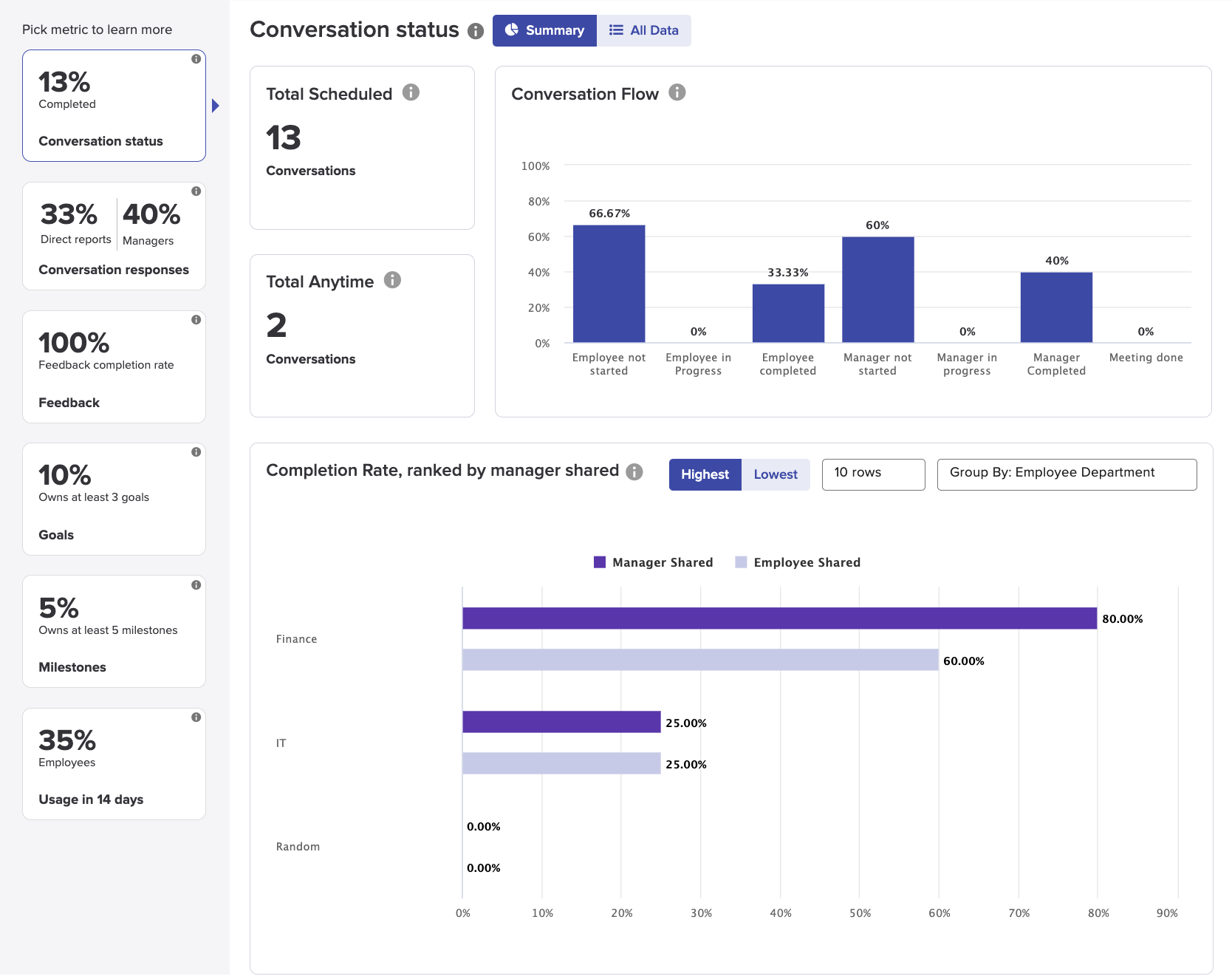 All data
Drill-down

Tabular data view after clicking on a specific bar in one of the graphs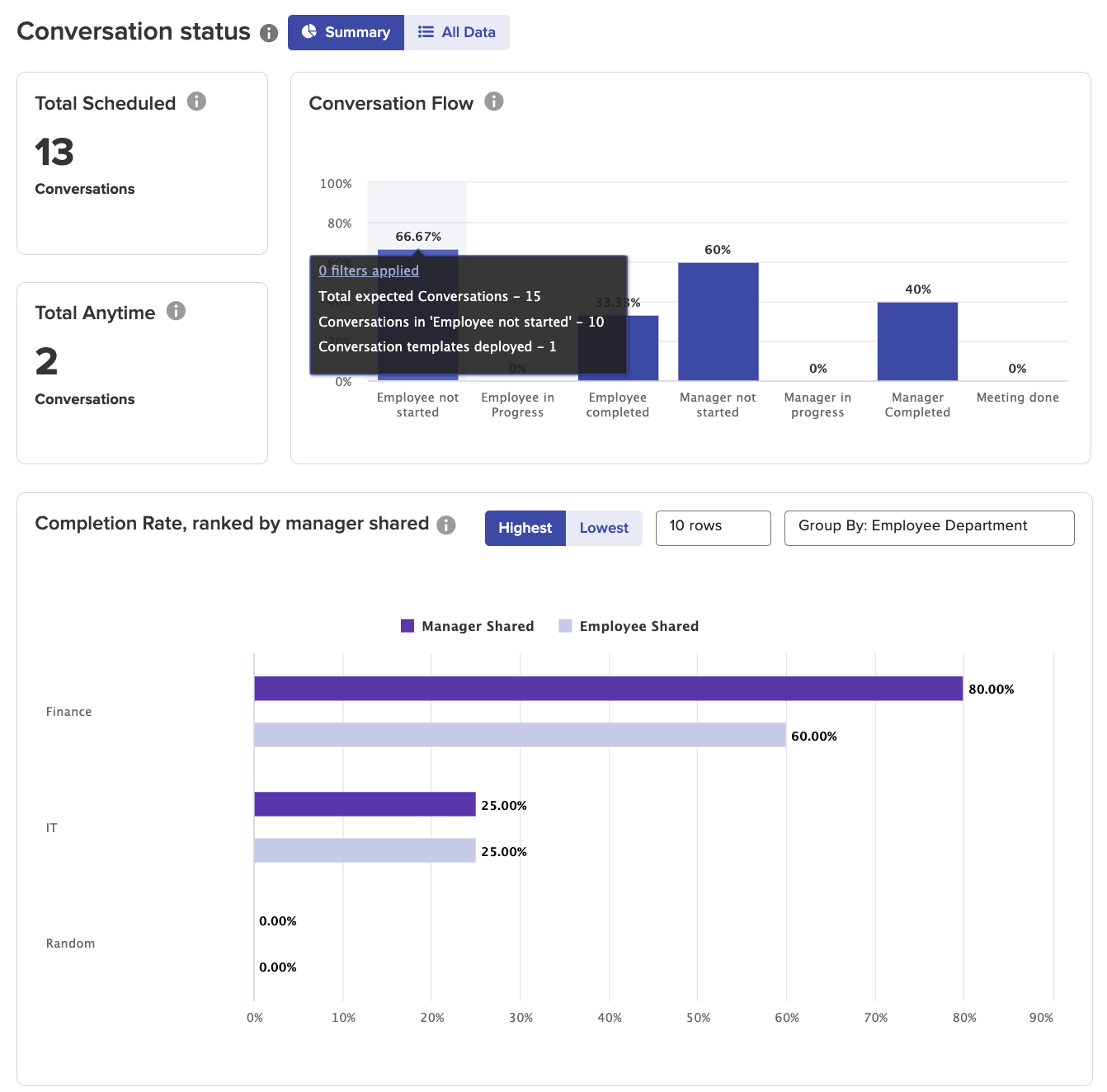 Overview

Select manager and click the "Remind Managers" button at the top-right corner of the dashboard to open your email client where the selected managers will be listed in the BCC section

Click the "Email Report" button at the top-right corner of the dashboard to receive a notification that includes a download link and lists any filters that were applied

You can access the overlay of individual conversations by clicking "View" on specific user entries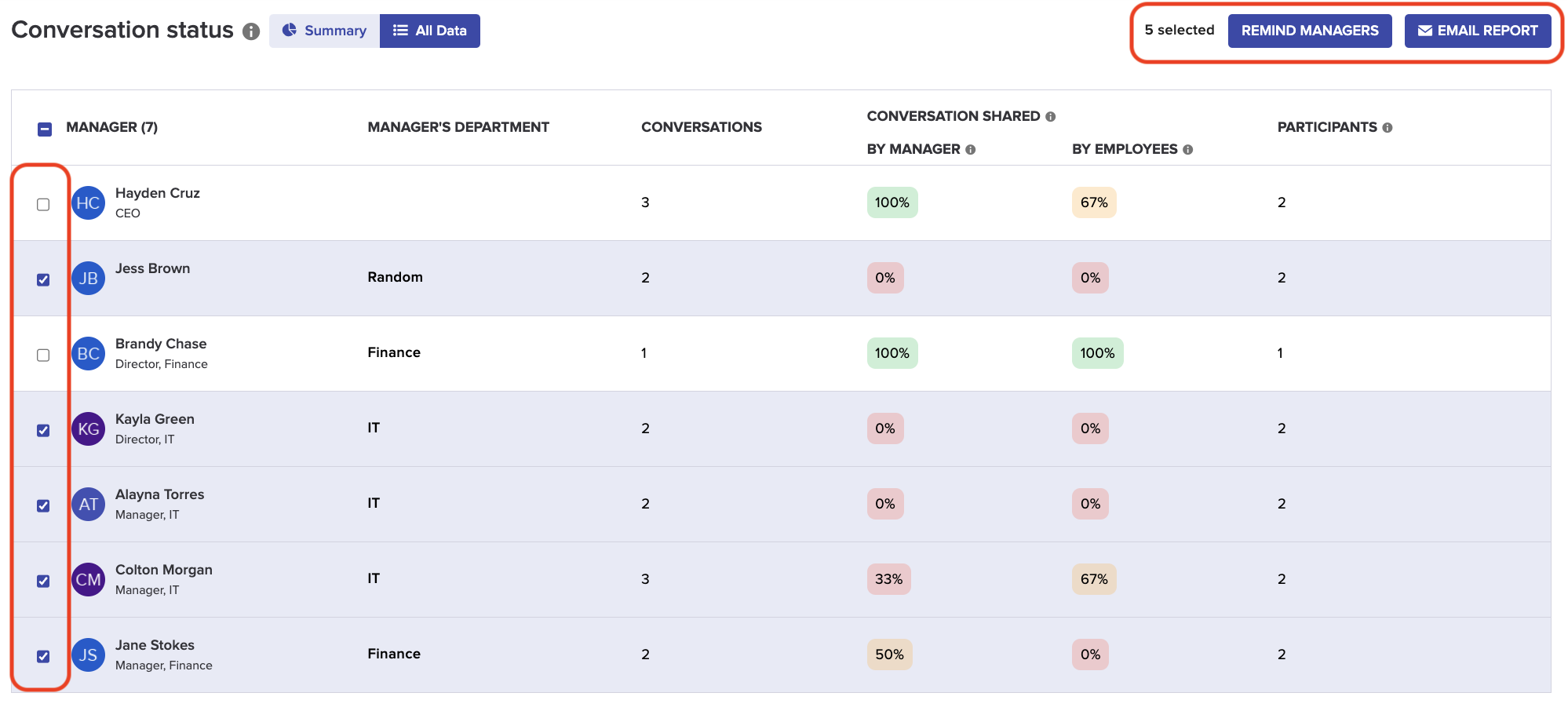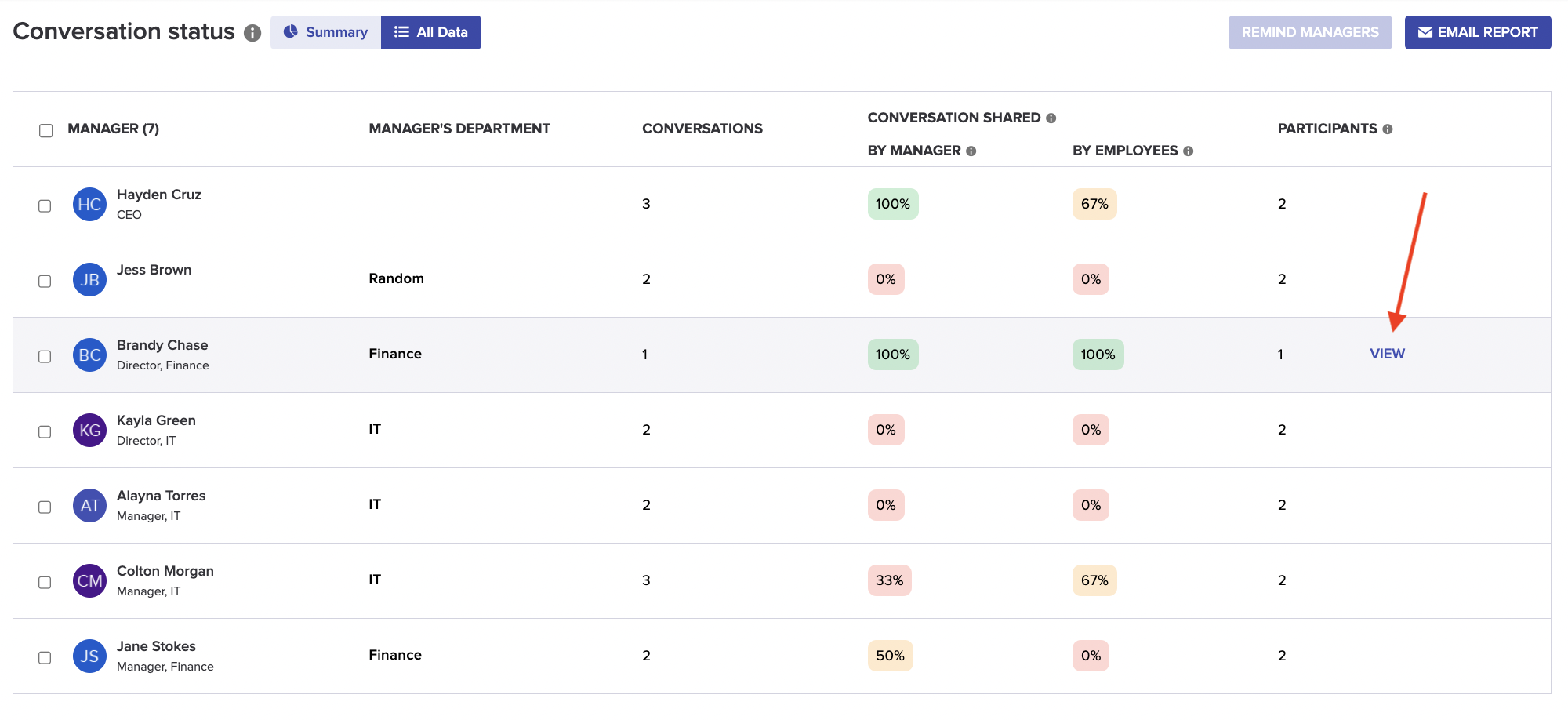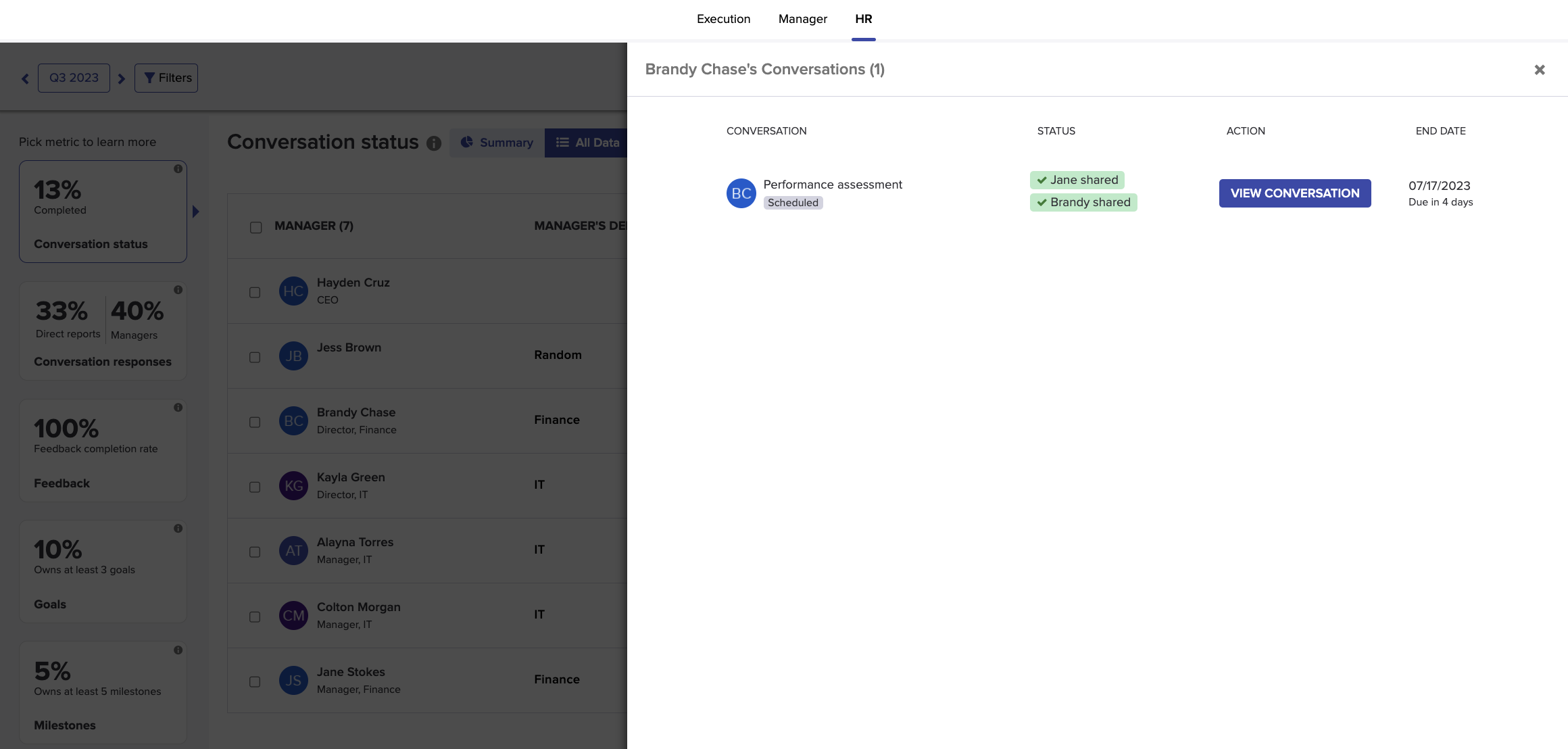 Conversation Responses
Summary

Graph

Only certain question types will display (i.e. multiple choice, scale, and rating questions)

Confidential questions will have a "Confidential" label so that they can be easily distinguishable

All data
Drill-down

Tabular data view after clicking on a specific color in the graph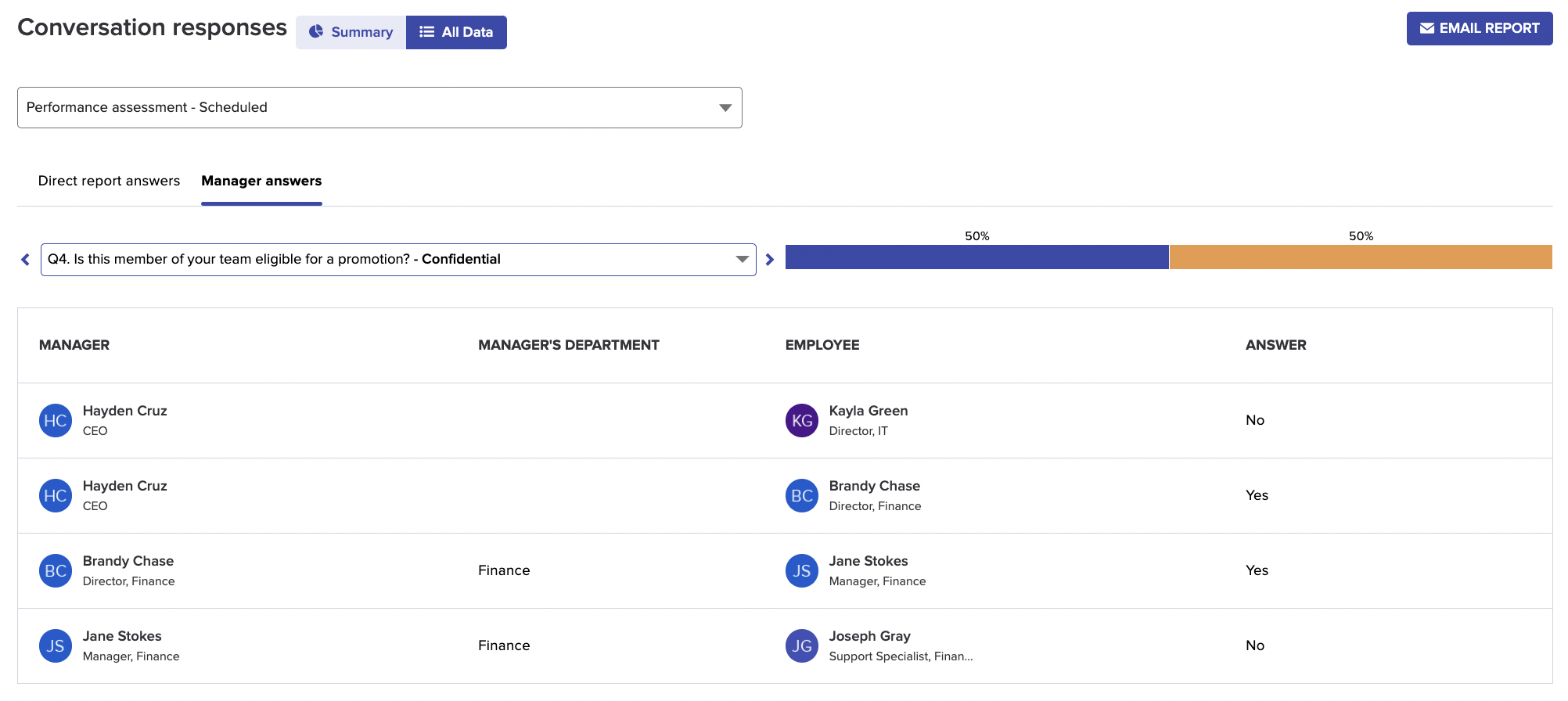 Feedback
Overview

Click the "Email Report" button at the top-right corner of the dashboard to receive a notification that includes a download link and lists any filters that were applied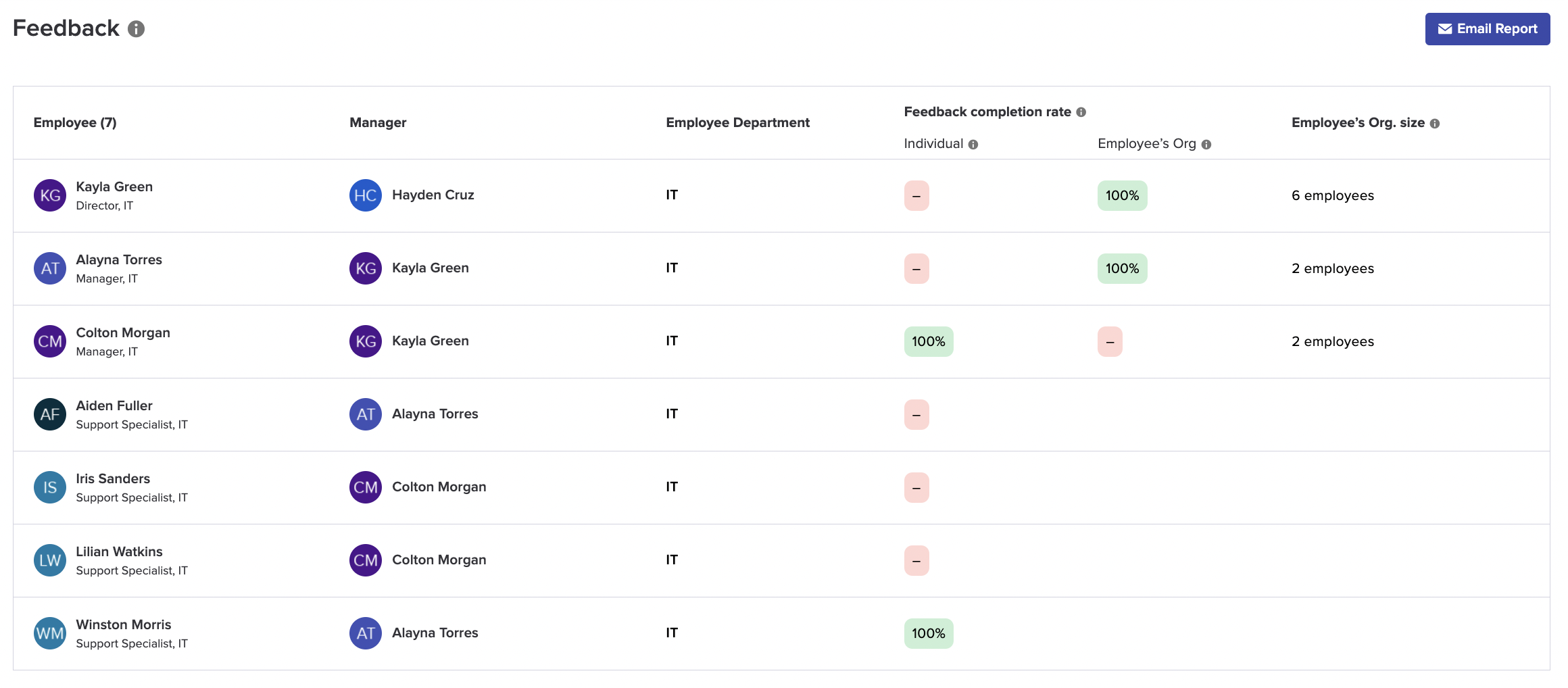 Goals
Overview


Click the "Email Report" button at the top-right corner of the dashboard to receive a notification that includes a download link and lists any filters that were applied

You can access the overlay of individual goals by clicking "View" on specific user entries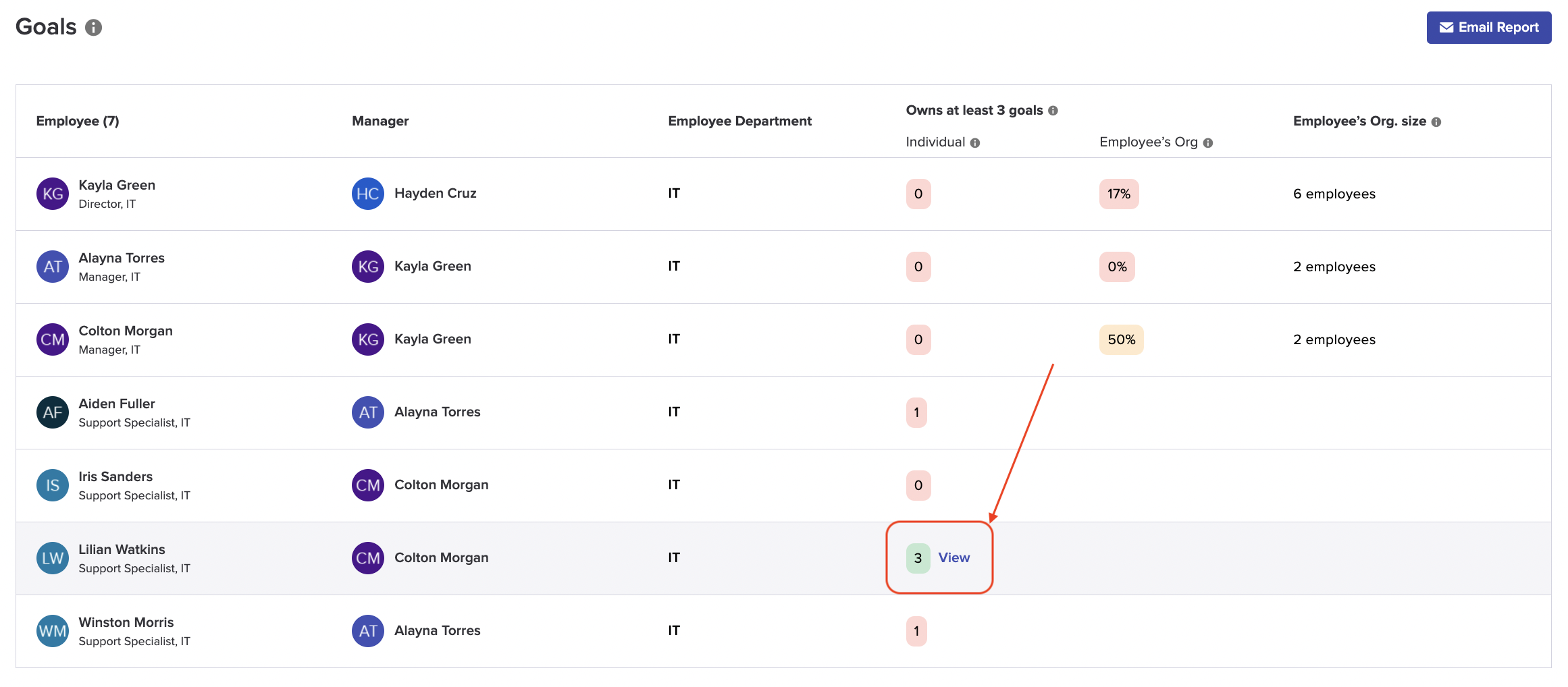 Milestones
Overview

Click the "Email Report" button at the top-right corner of the dashboard to receive a notification that includes a download link and lists any filters that were applied

You can access the overlay of individual milestones by clicking "View" on specific user entries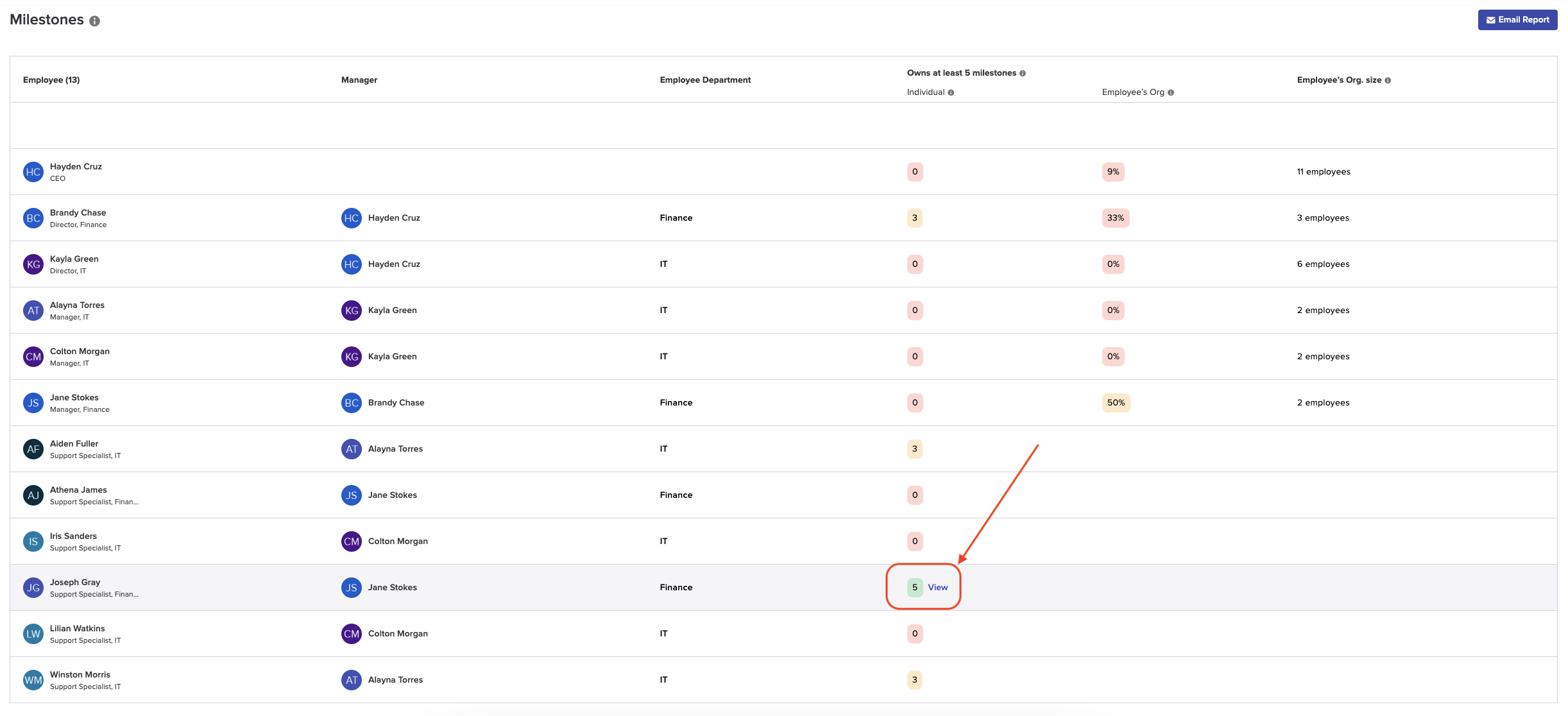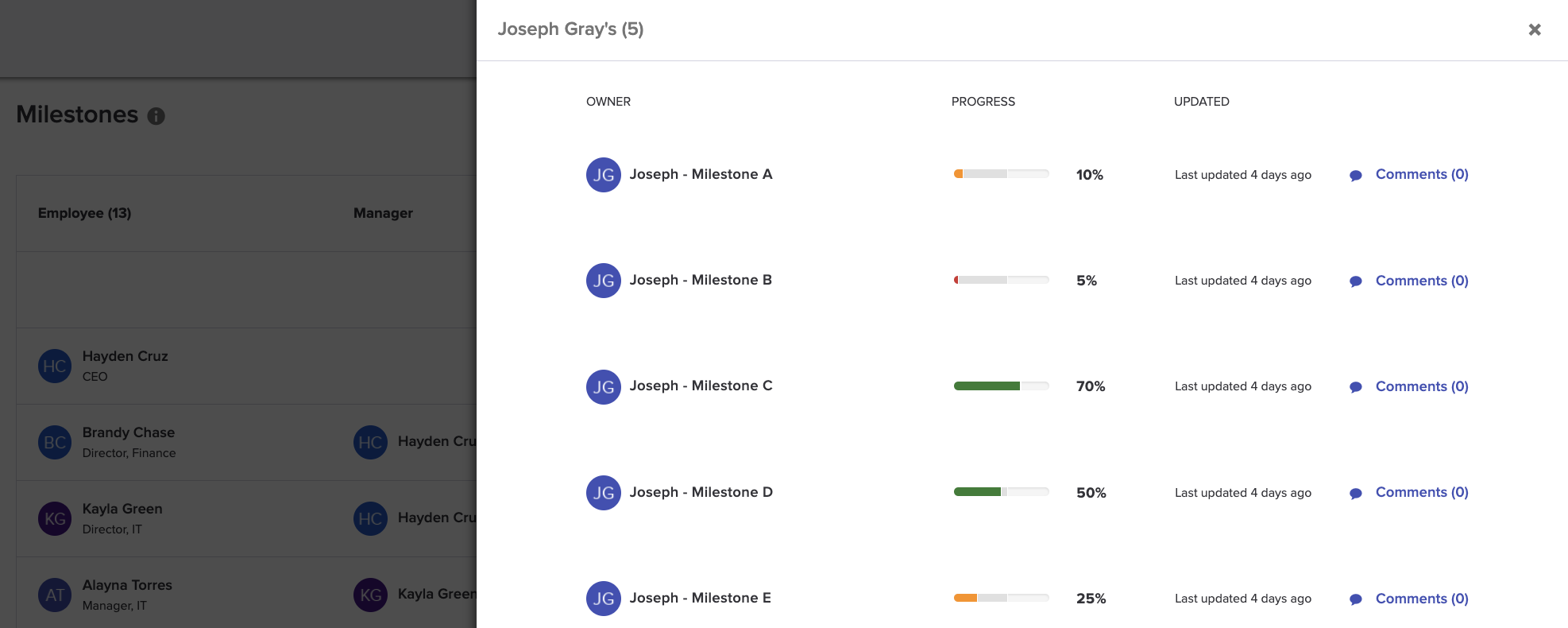 Usage
Overview

Click the "Email Report" button at the top-right corner of the dashboard to receive a notification that includes a download link and lists any filters that were applied